What Is Artificial Turf?
The right infill anchors artificial turf in place, providing stability and additional cushioning. Goat Turf is the leading SYNLawn distributor and installer in Tennessee, Mississippi, and the Florida Panhandle. Here are reasons why Envirofill is our preferred synthetic grass infill:
Environmentally-friendly
Envirofill is made of rounded silica sand and thermoplastic elastomers, which are less toxic than other infills. Silica sand is a naturally-occurring mineral that is abundant in the earth's crust. This type of infill is free from harmful chemicals, carcinogens, or heavy metals. Envirofill is odorless, meaning it doesn't emit unpleasant smells on your indoor or outdoor turf.
We use Envirofill that has been tested for volatile organic compounds and ruled out as a low-emitting product. This type of infill is recyclable and can be repurposed into other products like glass and ceramic materials. Envirofill is produced using a low-energy manufacturing process, lowering carbon footprint compared to other types of infill.
Anti-microbial
We use Envirofill that has anti-microbial properties which help prevent bacteria, mold, and mildew growth. This makes it a more hygienic option for sports fields or playgrounds where pets and people play. The Envirofill we use has Microban technology, an anti-microbial agent that prevents microorganisms from reproducing and spreading in your turf.
Our experts spread Envirofill on your artificial turf to prevent microbes that can cause stains and odors. We can add more infill and spread it evenly for maximum protection against biological spores. Our experts can add Envirofill on your landscape, lawns, putting greens, and tennis courts to control mold and mildew growth.
Heat-resistant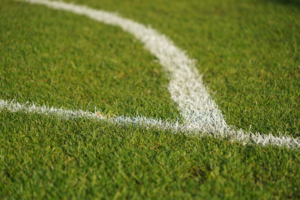 At Goat Turf, we use heat-resistant Envirofill that can protect your synthetic grass during the summer. This prevents the infill from melting or deforming under high heat, which would compromise the safety and performance of your artificial grass. The silica sand granules in Envirofill have a low thermal conductivity, meaning they don't absorb or retain heat like rubber.
We utilize Envirofill that's light in color to help minimize the absorption of solar radiation. We also use large-sized infill particles that allow air circulation and reduce heat buildup. Envirofill is designed with round shapes to enable air to escape more efficiently. When your turf is cool, you can walk or play on it comfortably even during the hot season.
Durable
We use Envirofill that lasts longer and maintains its shape or texture over time. The silica sand granules in Envirofill are coated with an acrylic resin that boosts resistance to weather elements. By using this coating, the infill doesn't clump together or compact, interfering with the effectiveness of your artificial grass.
This type of infill can withstand heavy foot traffic and sports equipment. We install Envirofill to anchor artificial grass fibers in place to control turf from dislodging or shifting. The lifespan of your turf can lengthen, leading to low maintenance and replacement costs.
Your Professional Artificial Turf Installer
Envirofill has numerous benefits, such as durability, heat resistance, eco-friendliness, and anti-microbial properties. If you want high-quality artificial turf, you can count on us at Goat Turf for installation. We prepare the base, install turf, spread, and brush the Envirofill for even distribution. Contact us today to schedule a consultation.