Different Turf Types for Different Spaces
Artificial grass comes in many varieties, each having unique characteristics that make it best suited for specific applications. Goat Turf is an artificial turf installation and artificial turf supply company that is an exclusive distributor of SYNLawn, the industry's highest-quality turf. Whether you want to purchase synthetic grass wholesale or retail, our artificial turf will perform exceptionally to fulfill your needs and preferences.
Turf Types and Characteristics
1. Material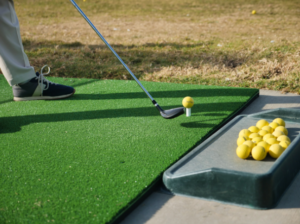 Depending on the material, there are three primary types of artificial grass:
Nylon artificial grass has stronger fibers than other materials, making it an ideal choice for high-traffic areas. While it tends to have a higher up-front cost, its longevity makes it an economical choice.
Polyethylene artificial grass most resembles natural grass and is relatively soft. Polyethylene turf is most often used for athletic fields, residential landscaping, and pet areas.
Polypropylene artificial grass is the most affordable option but may not be as durable as the other two materials.
A thorough evaluation of your unique needs and consideration of your budget will help determine which material is most suitable.
2. Fiber Height
The length of the artificial grass blades can determine how your lawn will look and feel. Shorter blades are an excellent choice for because they are easier to clean and feel softer on their paws. Medium-height blades serve a more general purpose. They are durable, look more natural, and create an inviting atmosphere. Longer fibers give a lush and cushioned feel, which may be preferred for indoor uses like balconies.
If you're planning on buying your artificial turf supply wholesale, choose the fiber height based on the area's intended use.
3. Color
Green is the most common artificial turf color since it looks the most natural. You can use it for your backyard, design a play area outdoors, or customize it to match your landscaping to make it seem like natural grass.
However, if you want to make a bold statement, artificial turf is available in many other colors, such as blue, orange, yellow, purple, and pink. These colors are generally ideal for indoor applications like office lobbies and restaurant patios, as well as custom sports fields.
4. Other Features
Depending on how you want to use artificial grass, other features can make one type of turf more appealing than others. A common characteristic some people look for is UV resistance, which helps prevent fading in direct sunlight. Non-flammable turfs are often desired for areas with sparks and flames. You can also get turf with perforation for better drainage of liquids.
Blended colors can provide a more natural feel, while heat-resistant turf can keep the area cooler. Goat Turf's synthetic grass has features like odor-absorbing infill and pet deodorizing infill to keep your area appealing. In short, it's important to consider your application to determine the features you need.
Contact Goat Turf for Artificial Turf Supply
Goat Turf provides a wide selection of artificial turf for various applications. Whether you want to create a green office, customize a backyard with artificial grass, or install synthetic turf on an athletic field, you can count on us for the highest quality products.
Our team can install the artificial grass for you, and we also supply it wholesale to other installers, landscapers, hardscapers, and architects. Contact us today to discuss your needs and receive a project quote.