What Is Artificial Turf?
Artificial grass is a low-maintenance alternative to natural grass, but it still requires occasional upkeep. Weeds can spring up in the soil beneath your artificial grass, making the material uneven and unappealing. Unattended weeds can grow through the bottom layer of the mesh, causing problematic damage to your turf system. Goat Turf will complete your artificial turf installation with preventative measures that keep weeds away.
Here are our tried-and-true methods for preventing weeds in your turf:
Add a Layer of Turf Backing
Turf backing systems are made of finely woven, durable fabric that's perfect for natural drainage and weed prevention. If you've scheduled an artificial turf installation, ask our crew about SYNLawn's EnviroLoc™ Backing System. It's our preferred backing material for weed protection, reliably designed to withstand any temperature or weather conditions.
Goat Turf takes pride in installing top-quality artificial grass with highest quality mesh. We typically install an additional backing system to ensure an extra preventative layer beneath your turf. The result is a beautiful outdoor space without the hassle of lawn care.
Brush the Turf Regularly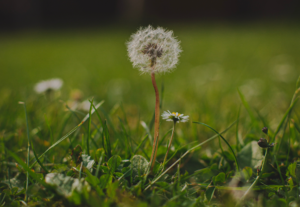 Brushing through your turf is another proactive way to prevent weed growth. The bristles of a turf brush are thin enough to remove debris, which includes airborne weed seeds, from between the synthetic blades of grass. You can get a turf brush directly from Goat Turf or from most local hardware or lawn care stores. Modern turf-brushing models are designed with handles and wheels, making them easy to push across the grass.
We recommend brushing your turf at least once per season or any time there's a noticeable buildup of debris near the base layer. Regularly brushing your turf can save you from dealing with unwanted weeds in the future.
Goat Turf provides ongoing maintenance for all customers, which is convenient for those who do not wish to invest their time in the upkeep of their artificial turf. An occasional service call to Goat Turf is the easiest way to keep your lawn looking perfect year round.
Keep the Perimeter Clear
Weeds spread quickly and, if left unattended, can damage your artificial grass. Even if your turf is entirely free of weeds, any weeds growing along the perimeter can be problematic. Spray the perimeter with weed killer to keep weeds from spreading to the soil beneath your turf. You should also check under and around nearby trees and shrubs for hidden weeds while spraying. It's a good idea to trim back surrounding plants so they don't overlap the border of the turf.
Many of our clients hire us to install artificial turf for playgrounds, play areas, and pet areas. If your turf is a play area for pets or children and you find the need to spray the perimeter area, we recommend using a non-toxic weed killer to keep everyone safe from harmful chemicals.
Goat Turf: Artificial Turf Installation
Goat Turf supplies the widest selection of synthetic grass in Tennessee, Mississippi, Northern Alabama, and the Florida panhandle. What's more, the company has recently expanded to Philadelphia and Eastern Pennsylvania, as well as Huntsville, Alabama. Our artificial turf is popular among homeowners and business owners because of its durable design. It looks and feels like natural grass and is tightly woven to keep plants and weeds from penetrating the material.
If you're tired of dealing with weeds or general lawn care and upkeep, contact us to learn more about artificial turf installation. Whether you want a private golfing area, a low-maintenance lawn, or some greenery around your business, we're up to the task. We love what we do, and our team will be happy to help you create the perfect, weed-free outdoor space.